Advertising is often seen as a window into society. It's reflective of the world around us, offering a snapshot of modern life and popular culture. But how accurate is it? To what extent does advertising effectively portray all the different perspectives and nuances of the world around us? And are the faces we see in television, print and social media ads really the faces we see in day-to-day life?
Students make up one of the most diverse consumer groups in the world, so we were interested in their thoughts on representation in advertising. We conducted a deep-dive survey with nearly 700 students across the US, asking them if they feel represented in advertising, and how they rate certain brands as a result of what they see.
What we found was disheartening, but not surprising. We noted a marked disparity between how students see themselves and what people look like in adverts, from both brands and education institutions. Many of our respondents complained of a lack of 'real people' in advertising, as well as stereotyping and diversity tokenism.
Let's take a closer look...
Only one in five students say they feel represented in advertising aimed at students
And just 15% of students say they feel represented in advertising in general. We found that white students are almost 10% more likely to feel represented compared to their non-white peers, while male students feel that advertising is less relevant to them than female students.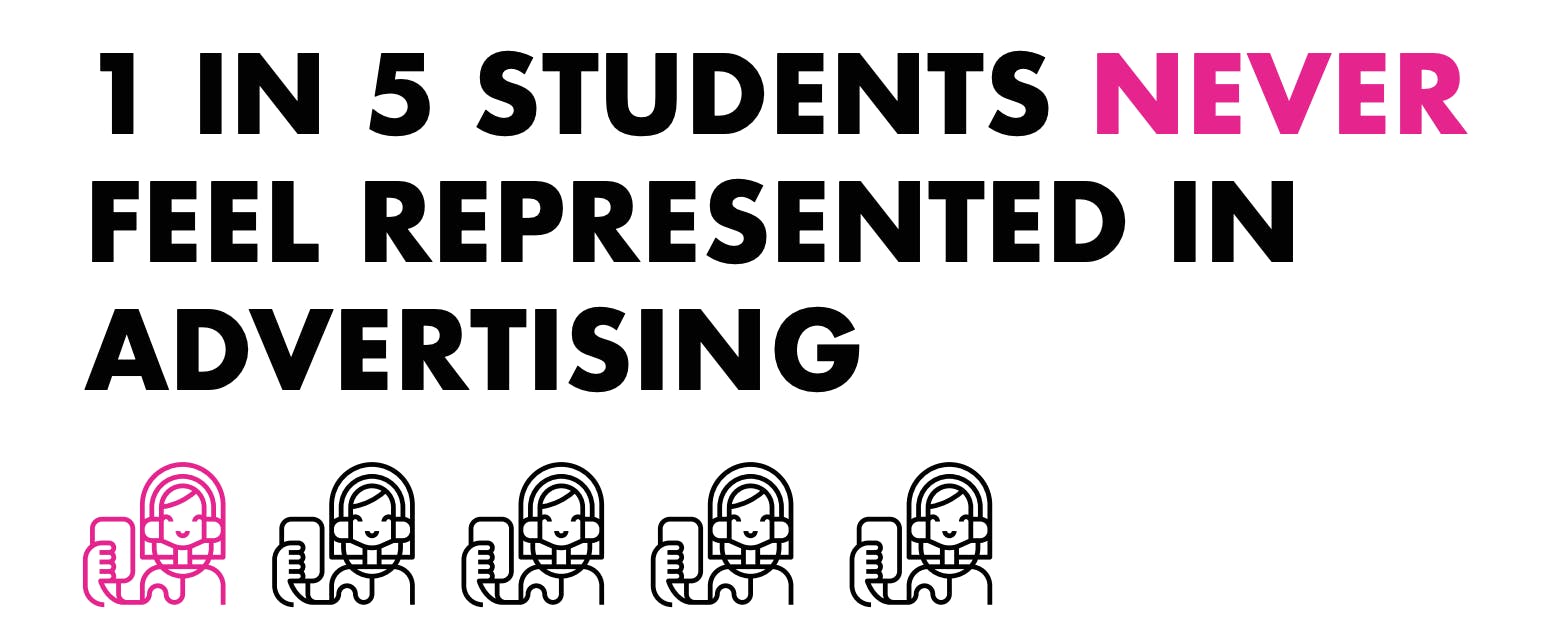 Students admit that they do see some elements of themselves in advertising. They see their age, gender and race widely represented, but they feel that their sexuality, body type or nationality are much less represented. So there's clearly work to be done here.
Nine in 10 students feel that most of the time, they're not seeing 'real people' in adverts
Students are calling out for more 'real people' in adverts, rather than just models. When asked what a typical advertising model looks like, many of our students came up with the same traits. They told us they're seeing white people in adverts, straight and attractive, aged 20-30 with a slim body type. One respondent described 'a Caucasian with white teeth and perfect skin, with the perfect body type'.
The result of this lack of diversity? Students feel that many adverts don't resonate with them. If you see people that look like you in an advert, you can imagine yourself using that product, you can imagine yourself at that university. A lack of representation can have a negative effect not only on how adverts perform, but also on brand image.
The good news is that some brands are getting it right
Sites with user-generated content are consistently rated as more inclusive than other platforms. And clothing and entertainment brands, like Nike and Spotify, come top among those representing students the most accurately. Interestingly, students connect strongly with the message that all kinds of people are welcome, and they're attracted to brands that don't just include people like them, but brands that include everyone.
"I FEEL SEPHORA, FENTY BY RIHANNA, AND APPLE REPRESENT ME MOST BECAUSE THEY NOT ONLY FEATURE YOUNG PEOPLE OF COLOR BUT DON'T FALL INTO STEREOTYPES IN THEIR ADVERTISING."
- Student panellist from the Where Are The Student We See survey
In terms of education institutions, students are interested in the level of diversity in their advertising, but they also assess whether the diversity shown is in fact accurate to real life. This goes back to their criticism of tokenism, and how this can ultimately make them feel negatively towards a brand.
As education marketers, it's within our power to make students feel included and a part of something, which is as important now as ever. Understanding our responsibility to create advertising campaigns that encompass people of all colours, sexualities, shapes and sizes, is essential to promoting positive change. Let's embrace diversity in our communications, not just to better engage and connect with our target audience, but also to make a difference to the advertising industry and to the wellbeing of society as a whole.
For more information on these insights, or to find out how our research shapes our client marketing campaigns, get in touch today.
1/5
students say they feel represented in advertising aimed at students
9/10
students feel that most of the time, they're not seeing 'real people' in adverts