Content marketing (noun): a type of marketing that involves the creation and sharing of online material (such as videos, blogs, and social media posts) that does not explicitly promote a brand but is intended to stimulate interest in its products or services.
When it comes to content marketing, the clue really is in the name. It's content, used for marketing. Obviously. But let's dig a little deeper. Let's think about what it's meant to do, rather than what it is. 
For us here at Net Natives, it's all about adding value - for our clients, their audiences, and to the HE sector at large. It's the stuff that supplements an advertising campaign. It helps us provide useful information, sure. But great content does so much more. It sparks inspiration, lets us build a connection and brings audiences closer to a brand. 
For a copywriter, there's a great deal of joy to be found in refining a message down to its absolute core. But for a storyteller, the recommended character limits, the restraints that force us to be creative in tight spaces are sometimes just that. Limits.
Sometimes a story needs a little more room to breathe, and that's where content marketing comes in. 
Here, our framework dictates that any piece of content - whether written, drawn, filmed or coded - needs to fulfill at least one of three purposes, depending on where our audience are in their journey: inspire, engage and educate. 
Inspire
What we mean by inspiring is active, disruptive. The kind of content that invites intrigue and fuels the imagination through striking visuals, compelling copy and emotive storytelling. We utilise this kind of content early in the journey, when our objective is to win attention on busy feeds. If you're interrupting someone's day, make it mean something by making them feel something. 
We aimed to inspire with our work for the International School of Management (ISM); a US business school based in Paris but with presence in six continents. Their student body is intelligent, innovative and brimming with stories waiting to be told. 
In 2018, we flew out to Boston (remember flying?) and produced a mini documentary following one such student whose ideas on recycling water have real world-changing implications: 
Engage
Timely, digestible and shareable, this is content that zooms out and deals with the broader culture. Here, we're contextualising what our clients have to offer in terms that are real and tangible to the audience, helping us build a true connection along the way. 
With our work for Hampshire County Council in 2019, centred around changing people's recycling behaviours, we knew we needed content that truly stood out from a crowded and often dry, preachy landscape. We used the insight that when it comes to recycling, parents can often be influenced by their children, and so we created a fully interactive game that let users 'recycle' in a bright and engaging virtual space.
Educate
There's no getting around it. Content marketing can't all be whirlwind trips and literal fun and games. There are always key stats that need to be communicated, but that's not to say that those facts and figures should read like lists of generally quite meaningless things. They can be fun and functional, as our recent work for the University of Aberdeen shows. We wanted to showcase the myriad career paths their online MBA could lead a student down, and did so with a highly branded, highly digestible infographic, designed to help break down the final barriers to application.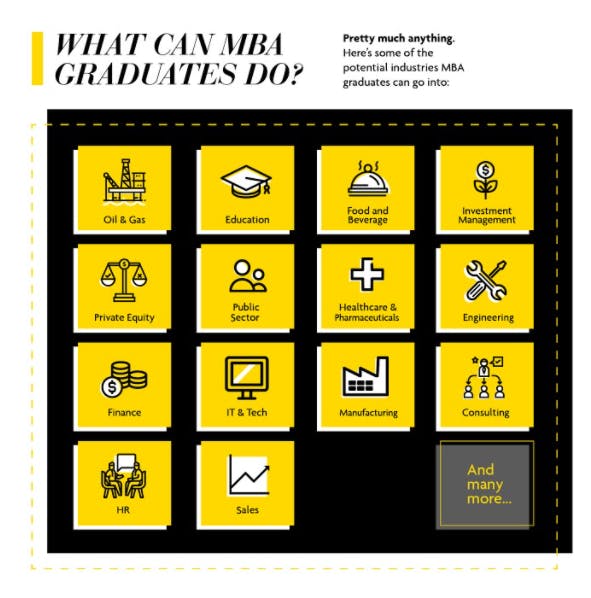 Content marketing doesn't just mean a set of SEO-optimised articles that you send out alongside paid activity (though when the time is right, we do those too!). There are so many ways to inspire, engage and educate your audiences in ways that go above and beyond the limits of 150 or 240 characters and that garner real cut through.
We're lucky here. We work with planners, creatives, copywriters and developers who know where the opportunities for great content lie, and how to make big ideas a reality.