Let's talk about communicating your value proposition, and the importance of standing out in what's an increasingly competitive, constantly changing environment. 
And let's all start on the same page, too. Firstly, what's in a value proposition? 
Here's the dictionary definition:
Noun: (in marketing) an innovation, service or feature intended to make a company or product attractive to customers.
But, in our opinion, this doesn't quite capture the relevance or importance of what your value proposition actually stands for. We prefer this: 
"The living, breathing thing that underpins everything you do and say."
Quite the statement, we know. But your value proposition needs to inform everything you do, at every touchpoint, for every potential student, from the moment they consider going to college to the moment they graduate, and ideally long after that.
And there are five elements that make up your value proposition; people, places, vision, reputation and networks. All of which must communicate and co-exist together. To understand your value, you must understand these. 
So first on the list; who are your people? 
This could mean your faculty and those your students learn from; the esteemed academics and the inspirational guest lecturers. Or the kind of atmosphere you try to foster.
Or it could mean their peers, fellow students. The makeup of the cohort. If it's largely international, broadening students' perspectives and horizons may make up a huge part of who you are as an institution. 
Then there are the places. From where home is now to where did your story begin. 
Are your students born and raised in New York City? Should your brand have the city's energy and vibrance laced through every word on paper? 
Or would that feel unnatural for your institution? Our clients, David Eccles School of Business, down in Utah, are all about capturing the majesty of their environment, with the mountains as a backdrop. 
Make sure when you're formulating a value proposition, you're painting the picture, or setting the scene that reflects you and your brand.   
The vision for your brand and the reputation that precedes it.
Another important aspect of your value proposition is your vision. What is your role in society? In the world, even? And how do you help students find their place in it? How can you not only say that you mean business, but more importantly, show it? 
And consider your reputation, too. What do prospective students think of you, before they've even thought about a Google Search? 
If you have an impressive track record that you know is appealing to students, then go ahead and dial it up. But if your rankings aren't up there with the big hitters, how does that position you differently? Is there an element of the underdog or challenger brand that can come through in your value proposition? 
And finally, your networks. 
This is a super interesting one because when we compare university brands to more household name brands, 99% of people don't know you, or care about you...
But to flip it, the ones that do? The ones who have studied with you, been on a journey with you? They care. And they care a lot. 
How do your network, your alumni, your brand advocates think of you? And how can that be conveyed in your value proposition?
Now, let's take that formula and check some inspo from outside the sector.
The first is from Uber, whose value proposition is that it's the smartest, smoothest, easiest way to get around. 
"Tap the app, get a ride - Uber is the smartest way to get around. One tab and a car comes directly to you. Your driver knows exactly where to go. And payment is completely cashless."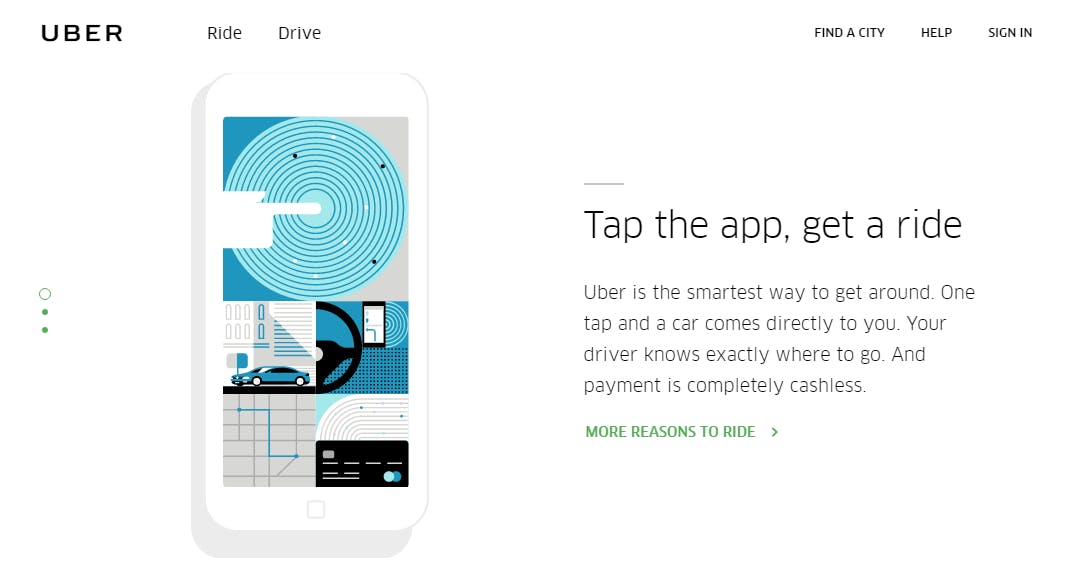 They manage to sum up exactly what their service is, what the benefits are, while also taking a shot at the alternative. Everything they mention is geared around convenience, and hailing a cab in New York City offers literally none of the things listed.
A really strong, clear, functional value proposition. 
On the other side, here's one that speaks to emotion. From Ikea, who in three simple words manage to communicate so much. The line here, 'the wonderful everyday', doesn't even mention something as banal as flat-pack furniture.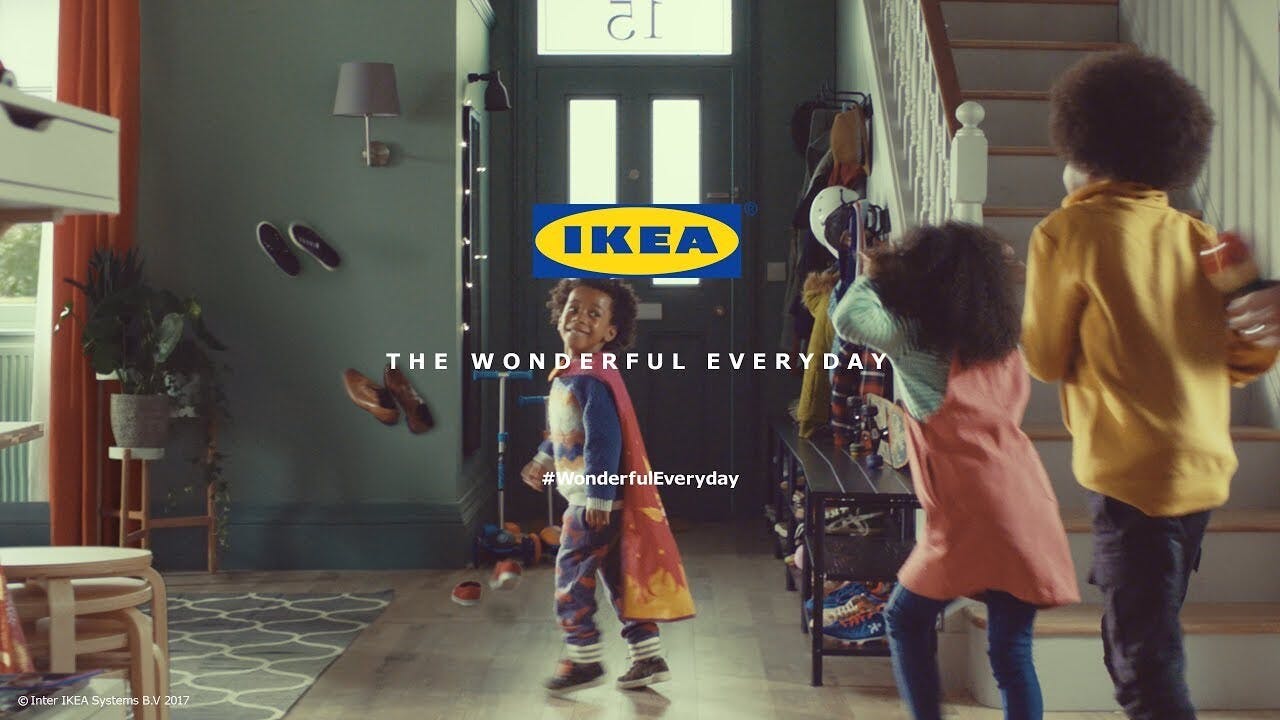 It really talks about the world you create around it.
Their messaging brings you into a story. It evokes feelings of home, a sense of place, family even. 
Now, let's take a brand and look at how they use their value proposition to underpin everything that they do and say. We'll serve up Burger King as a fantastic example.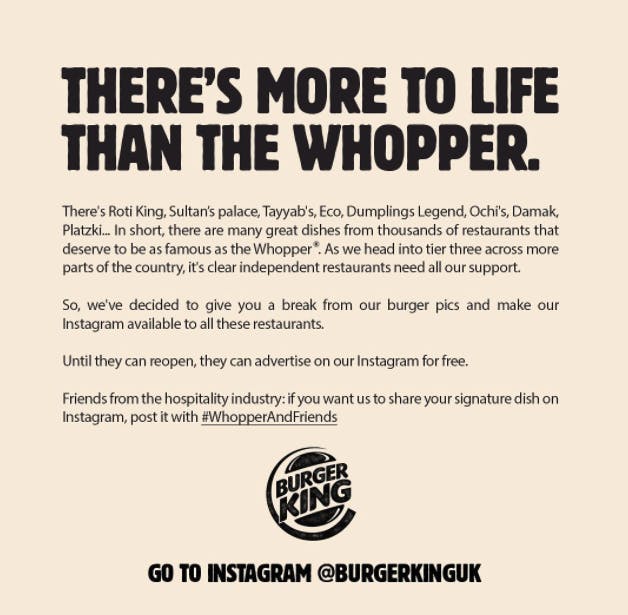 Burger King's brand has always had an air of the underdog about it. They write copy with the handbrake off. They're not afraid to be funny or witty or irreverent, or to use terms that are out there in the culture, like woke for example. They're playful and human and that makes them memorable. 
As the UK was entering its third lockdown, the burger chain offered up their Instagram page for free advertisements for local businesses. Namechecking hyper-local London restaurants. 
You're probably thinking what do burgers have to do with communicating university value propositions? And it's simple. 
It's about consistency in your tone of voice. 
"A strong, consistent tone of voice – how you read and sound – is your most valuable asset in standing out from the crowd and being remembered."
If you don't particularly like the idea of Burger King offering you the inspo, Study in Sweden takes a similar route to live and breathe everything their brand stands for. Bold, playful and informal. (Read more about the project here).
All too often, universities speak in the passive voice, or talk too much about themselves without considering the person on the other side of the screen. Since the rebranding project, Study in Sweden's teams have said how freeing it has been to be able to actually write like a human being. 
Emojis and tongue in cheek remarks are not quite what you'd expect to see when looking at places to study, but that's not a bad thing. That's its strength. 
Obviously, this tone won't be fit for all universities. Some are more conservative than others and you are, after all, a place of learning… But that's not to say you can't play with perceptions a little along the way. 
So, the key takeaways?
> Competition is fierce. Attention spans are short.
> Appeal to both the head and the heart.
> Be yourself. Be clear.
> Play with people's perceptions of your sector. Don't do the 'obvious'.
For more insight into communicating your value, catch up with the full session on demand here.