The Covid-19 pandemic continues to be a pervasive force challenging community college enrollment rates. It has reshaped college opportunities and choices, upended assumptions about the value of higher education and brutally exposed the vulnerabilities of community colleges and the people they serve.
As student marketers, we're constantly finding ourselves having to adjust to this ever-changing landscape. One of the most fundamental areas of change is student recruitment, as shifting student expectations are forcing community colleges to revisit their value propositions. Our student marketing specialists have identified three key findings that serve as common barriers to community college students that shouldn't be overlooked.
Do you know who your core student audience is?
To pivot your student recruitment plans with limited resources in the middle of a pandemic is not an easy task. Last year, many institutions overlooked how many of their students in the spring wouldn't be returning in the fall, in part because they were not clear on who their core student audience was. As a result, many institutions ended up waiting for students to show up and enroll - leaving them in the lurch when their numbers weren't as expected. Don't make the same mistake this year; now is a great time to capitalize on the opportunity to better understand your core student audience, craft a different narrative around the priorities in their lives, and make this a key part of your proposition.
Highlight the value you're offering
A common question students might ask is: what is so desirable about community college right now, especially when there will be fewer well-paying jobs post-pandemic? Students - particularly those on the edge of deciding whether to attend - might see abandoning college as a financially rational response to the pandemic. 
Historically, people who earn a community college degree get a substantial boost in earnings compared to individuals who leave college before completion. This is a great time to get creative with your digital ads and highlight the value you're offering. And then nurture your prospects through the recruitment cycle using digital touchpoints on key platforms, incentivizing them to reconsider enrolling at college.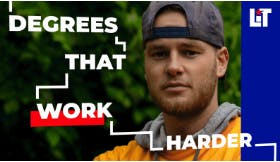 Through its strategic partnership with Net Natives, Lamar Institute of Technology increased its enrollment rate by over 15%; you can download our free community college whitepaper here to learn more about how they did it, and what you can learn from their approach. 
Help students adjust to the new conditions
Another barrier facing community college students is the challenge of attending their courses remotely. A recent survey shows that changes to the format and content of college classes - including the shift to online education - has had an impact on post-high school plans. Community college students can also be poorly served by online learning, with a recent survey showing that feeling isolated was one of their top concerns. 
Social media platforms - such as TikTok and Instagram -  are a great way to communicate with your students and increase awareness, even while learning online. For example, the University of Queensland regularly shares handy study-from-home tips via Instagram, showing they are in touch with and empathetic to what their students are going through. You can recreate this by encouraging your students to share their remote learning experiences and advice, and tag your Instagram handle in their Stories. This content can then be re-shared to your social media accounts to connect with prospective students in an authentic way (and for even more social media inspiration, check out the amazing work from our 2020 Edurank award winners). 
At Net Natives, our experts are continually learning about what students want, and discovering new ways to help you identify your target audience and articulate your value in an ever-more competitive market. If you're considering building out a strategic outreach campaign to boost your enrollment, get in touch with us today.