There is no doubt that Tik Tok has drastically changed the game when it comes to reaching prospective students.
A Google executive recently announced that nearly 40 percent of the newest generation of college-aged students, Gen Z, prefer to use TikTok and Instagram for internet search instead of Google. Even more, Tik Tok usage in youth aged 12-17 recently surpassed Instagram, according to a recent survey by Forrester. 
For the current and incoming class of students, this is where much of their attention lies. That's why we're highlighting some of the fresh, creative ways higher education institutions are leveraging the superstar-status of Tik Tok to generate more leads and brand awareness.
1) Universities leveraging lighthearted, student-generated content:
Washington University: Coming in hot with 4,000 followers and 277k likes, Washington University has had good success with student-led content by featuring a variety of students and professors around campus. 
In their most popular videos, WashU uses a trojan-horse tactic that features the campus's every-day life in a humorous way, and without revealing true intentions.
Their top-performing Tik Tok, at 135 thousand likes, is a play on a common social blunder every college student knows and fears. It sets the scene during finals week, integrates shots of locations around campus, and features both students and teachers in a lighthearted, kitschy tone sure to make anyone laugh:
University of Chichester: With 23 thousand followers and 338 thousand likes, being one of the top UK universities on Tik Tok isn't easy. They even have a Tik Tok about it. But one thing University of Chichester does well is making viewers feel like they're getting information from the inside while using Gen Z humor.
Check out this silly Tik Tok spotlighting a rising alum: 
Or, this slightly less chaotic video featuring one student's favorite parts of campus:
Key Takeaways: When thinking about ways to position student-generated content, a good rule of thumb is to allow student creators the occasional freedom to be silly and relatable. Universities don't always need professional-grade creative or show-stopping facilities to capture the minds and hearts of students, so considering more consistent, casual routes might just be a success.
2) Universities leveraging viral-worthy moments:
On college campuses all over the world, interesting things are bound to happen. With students working on different projects, sharing their joy, or participating in larger events, the tricky part is to capture it on camera. Some universities have done just that, and are trying out their luck on Tik Tok.
Brigham Young University a.k.a "Cosmo the Cougar": Brigham Young has done something unique with their Tik Tok. Instead of featuring student-led content, the university's Tik Tok is…cougar led? 
With a whopping 1.4 million followers, Brigham Young shows off campus spirit through their mascot, Cosmo the Cougar. In their most viral video, Cosmo dances to a trending song with Brigham Young's dance team, which lands the video a surprising 4.1 million likes. More recently, they have kept the bit going–Cosmo even got to perform with the music creators from their most viral video: 
Rochester Institute of Technology: To date, the Rochester Institute of Technology has 51 thousand followers and almost one million likes. A portion of that one million comes from this satisfying video of students experimenting with glass art techniques. At 813 thousand likes, capturing this interesting experiment for social media, and using the popular hashtag #oddlysatisfying, was certainly a good move:
University of the Arts London: In one of their latest, University of the Arts London highlighted one student's impressive dance moves at this year's commencement ceremony. After a show-stopping splits, the crowd goes wild. Once the university posted it with the caption, "And the award for the most iconic graduation stage walk goes to…," users on Tik Tok reacted wildly, too, increasing the likes, comments, and shares to almost 50 thousand:
Key Takeaways: There's no shortage of colleges gaining speed on Tik Tok. Each viral video takes advantage of the tools available to them to make it happen: documenting and sharing the already exciting things happening on campus, integrating timely campus activities with trending dances, hashtags, and sounds, and of course, posting highlights from dearly-held events, different projects students are working on, and sought-after traditions like commencement.
3) Universities leveraging in-app campaigns
While increasing awareness through organic content on Tik Tok is great, Tik Tok also has a variety of tools which make generating leads a clear possibility. As an example, Ohio University leveraged TikTok's in-app campaign feature in an effort to boost enrollment for their Executive Master's in Public Administration (EMPA). Their campaign targeted full-time and part-time employees looking to get an EMPA. The recipe for their targeting?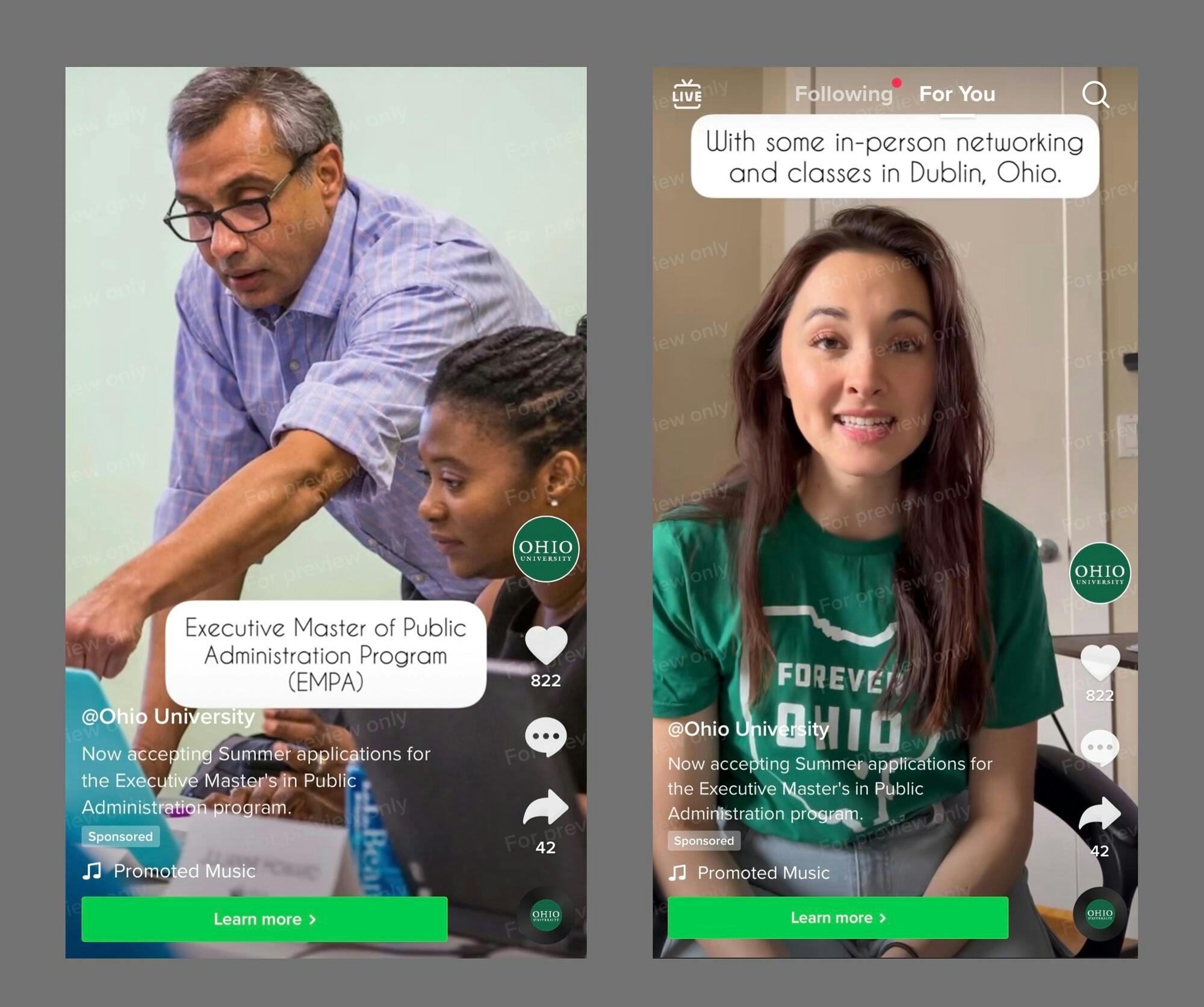 First, a custom audience to reach prospects similar to Ohio's existing leads: website visitors, users who opened or completed prior Tik Tok forms, and finally, a hashed list of enrolled students in the program for look-a-like modeling.
Next, interests: accounting for what videos their EMPA target audience was already interested in on Tik Tok, like education, news and entertainment, apps, and financial services, to name a few.
Finally, Behaviors: accounting for tendencies like following social justice activists, community members, political figures, and local news sources.
At the end of their campaign, Ohio University achieved 133% of their KPI's.
Net Natives' strategists were able to help Ohio University leverage Tik Tok thanks to our history of Tik Tok innovation. In 2019, Net Natives was the first agency to ever run a Tik Tok ad for student marketing. Now in 2022, Net Natives is a premium Tik Tok partner, where we've curated a Tik Tok Content & Advertising Masterclass to help fellow marketers create engaging content and strategies on the platform.
We know for sure that the future of Tik Tok is evolving constantly, but enlisting Net Natives' services can help guide you through it. Simply get in contact today.