March Madness is never anything short of exhilarating. For college hoops fans, there's nothing like it to lift the spirits, welcome in the new season and inspire campus community cohesion. But for HE marketers, how can you take advantage of the goodwill inspired by this phenomenon, along with other sporting events, to help boost your institution's brand image? 
With a few weeks to reflect and let the dust settle after the spectacular tournament win by the Baylor Bears, we thought we would share some of our key insights into how the event was marketed, and how you can use these to center your institution's sport and cultural offer in your branding.
We kept track of the social media content used to celebrate March Madness to share with you some examples to help you plan for next year's basketball season and all of your sporting and cultural offers in between.
Students are your best brand ambassadors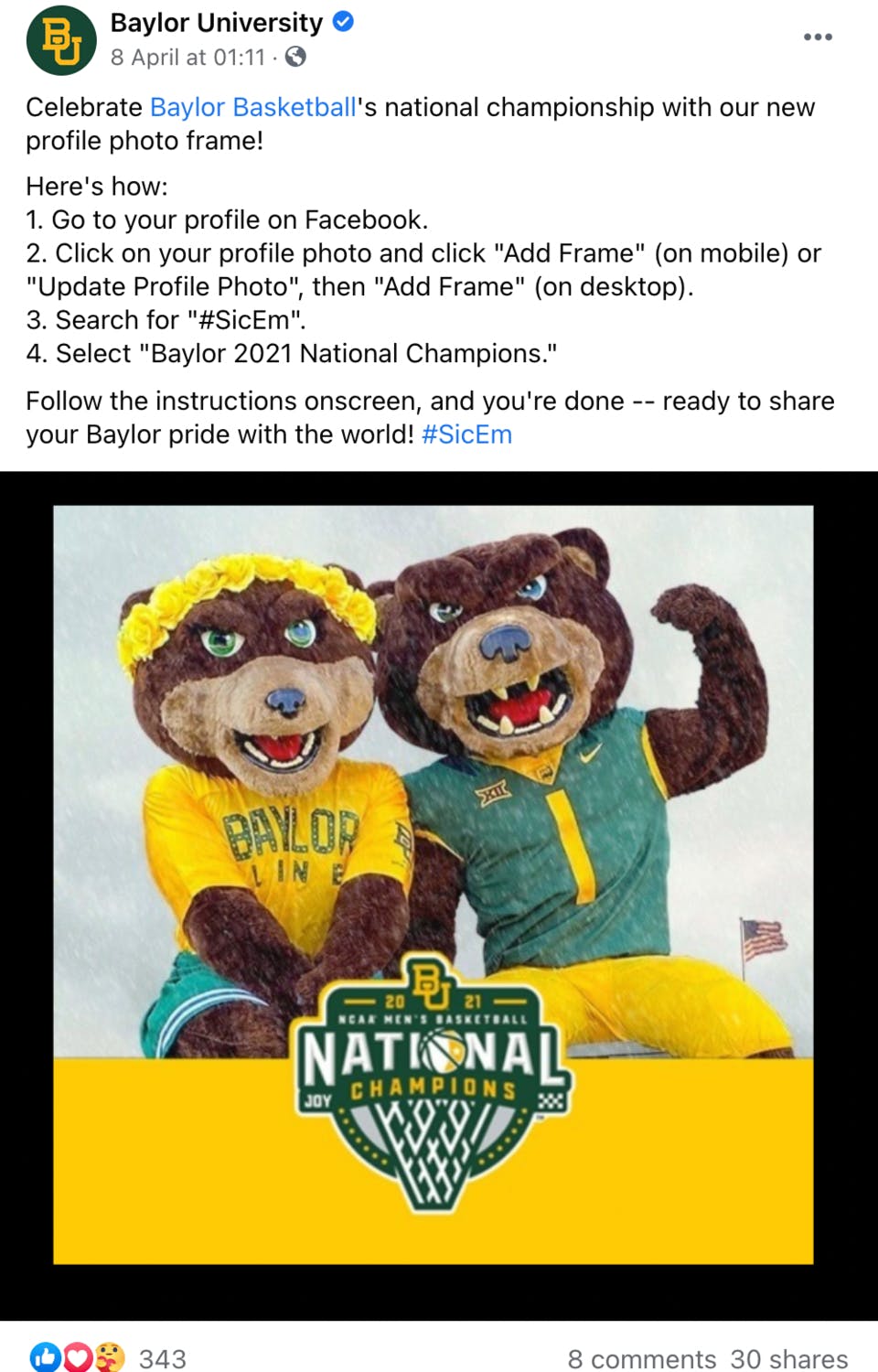 After winning March Madness, Baylor University invited students to add the Baylor 2021 National Champions photo frame to their profile pictures. By creating branded, highly visible and shareable content, your students will become your very own brand ambassadors and advocates by promoting your institution on their social pages. Actively creating great user-generated content through playing a part in the celebrations and showing support for their varsity teams.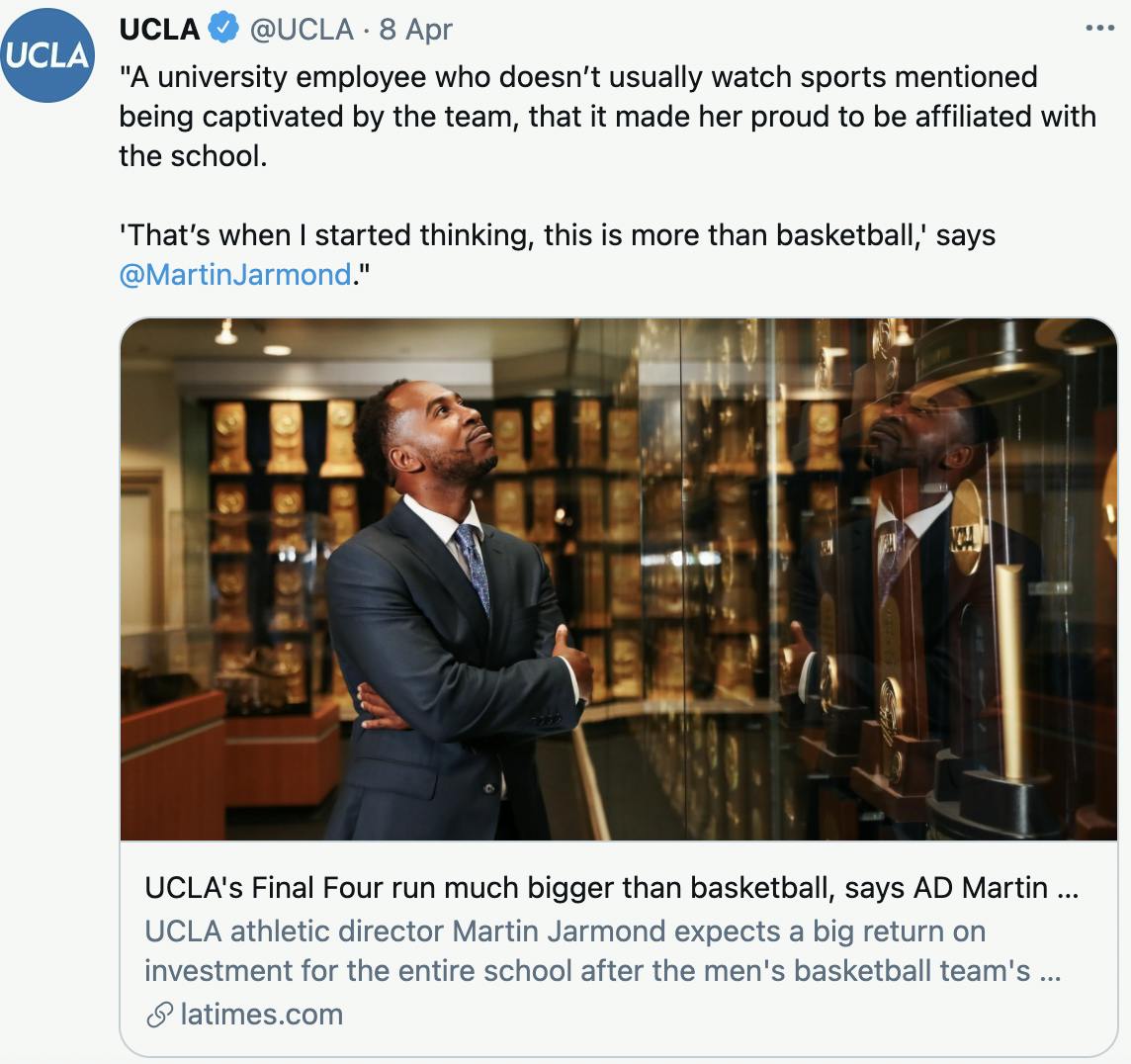 Creating feelings of pride around varsity teams and major events is a great way to build a sense of community. Even students and employees who are not usually into sports can become captivated by the buzz and celebratory atmosphere centred around a sports team or event, and this in turn leads to pride in the university they are affiliated with. Students who feel pride in their sports teams and universities will not only promote the brand during their time at university, but will also be alumni brand ambassadors for life. 
Make use of hashtags 
During March Madness, one of the most successful elements of HE social media marketing was the use of hashtags. Hashtags are the best way to inspire the mass sharing of content, and when widely used, they create a treasure trove of user generated content.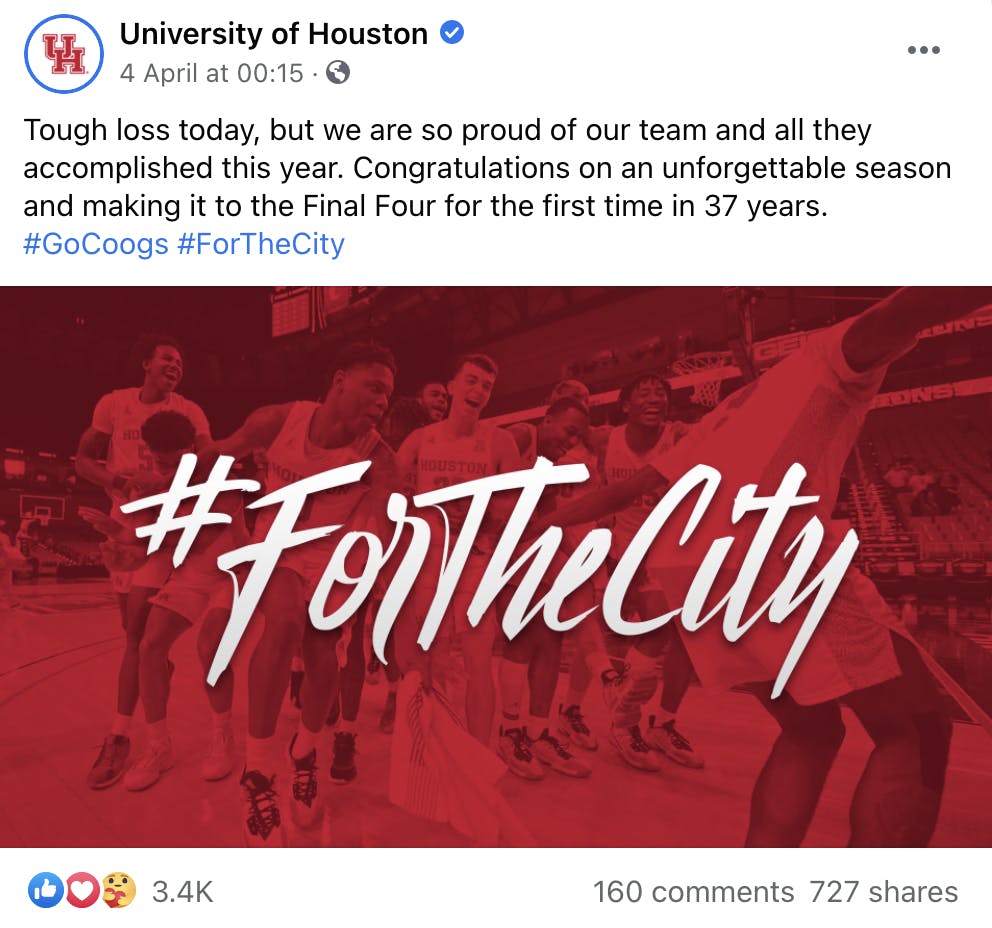 The University of Houston were great at promoting their hashtag #ForTheCity, not only using it on all their March Madness posts, but also creating bold graphics of the hashtag as content.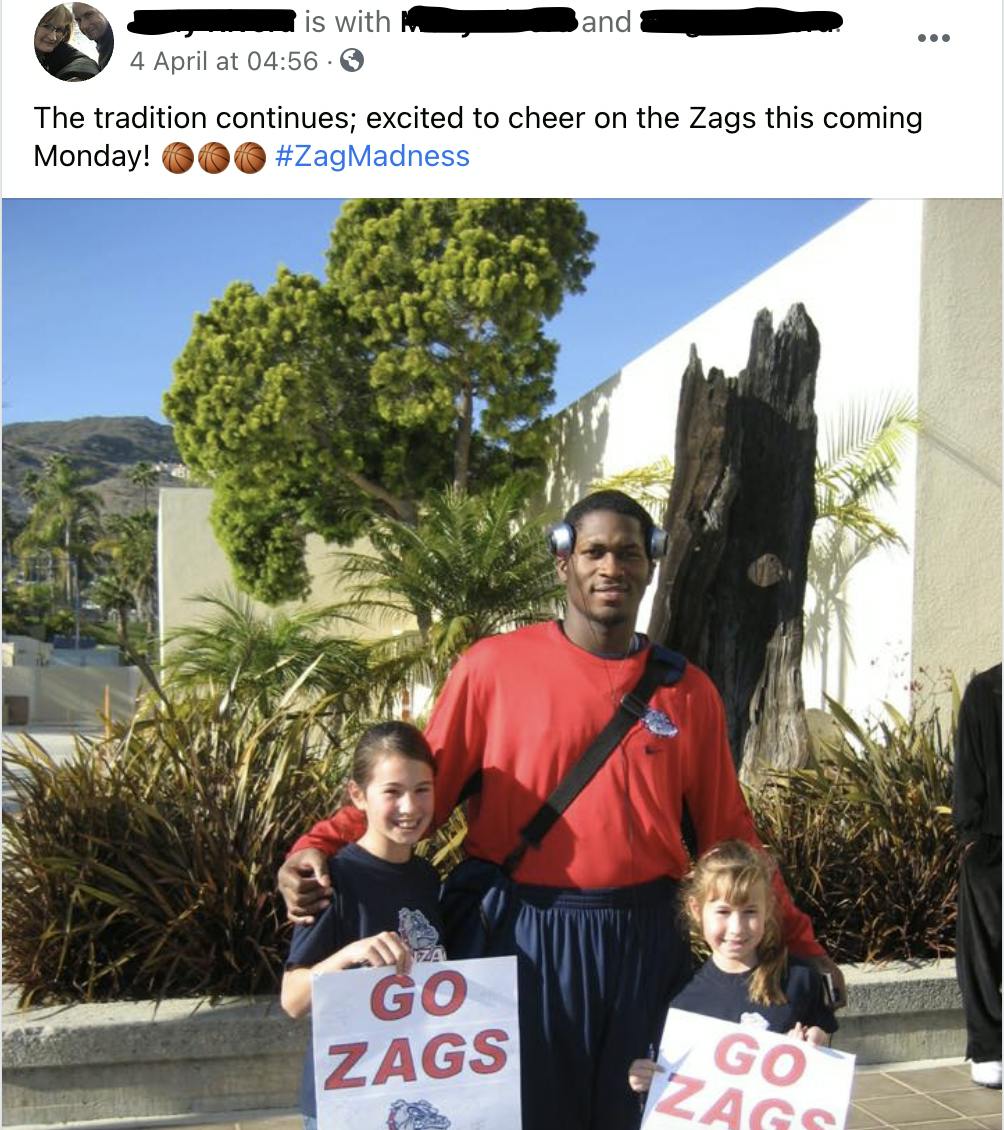 Gonzaga University used the hashtag #ZagMadness, and there were great examples of alumni using the hashtag to show their pride in the university.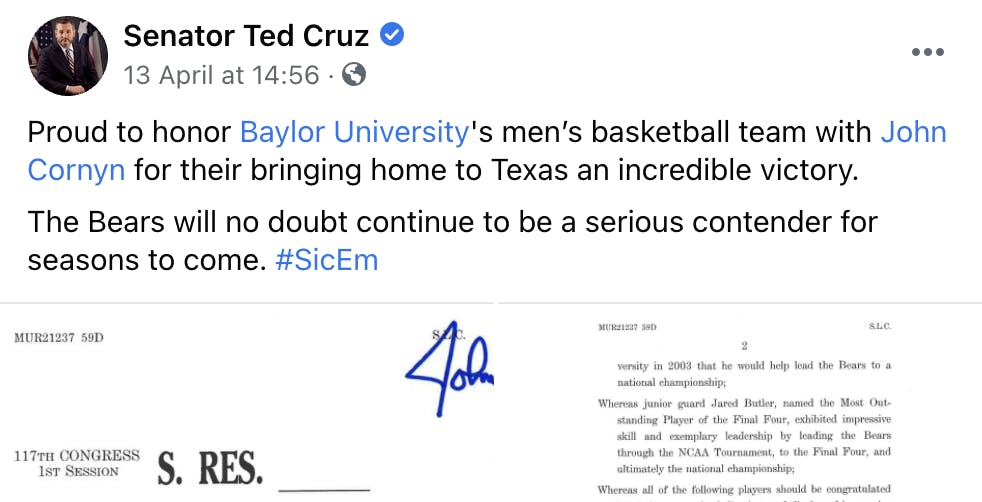 The widespread use of hashtags means that even public figures can get easily involved in the hype, adding their voices in support of their local teams. Senator Ted Cruz used the Baylor University hashtag #SicEm on his social media post about the Baylor Bears. You can then re-purpose this content in your own promotional activity. 
Feed the buzz
HE marketers must keep their eyes on the ball (no pun intended) during major events, to create and share inspiring and timely content that will feed the buzz and promote the college brand alongside sports fixtures and game results. We saw some great examples of this during March Madness.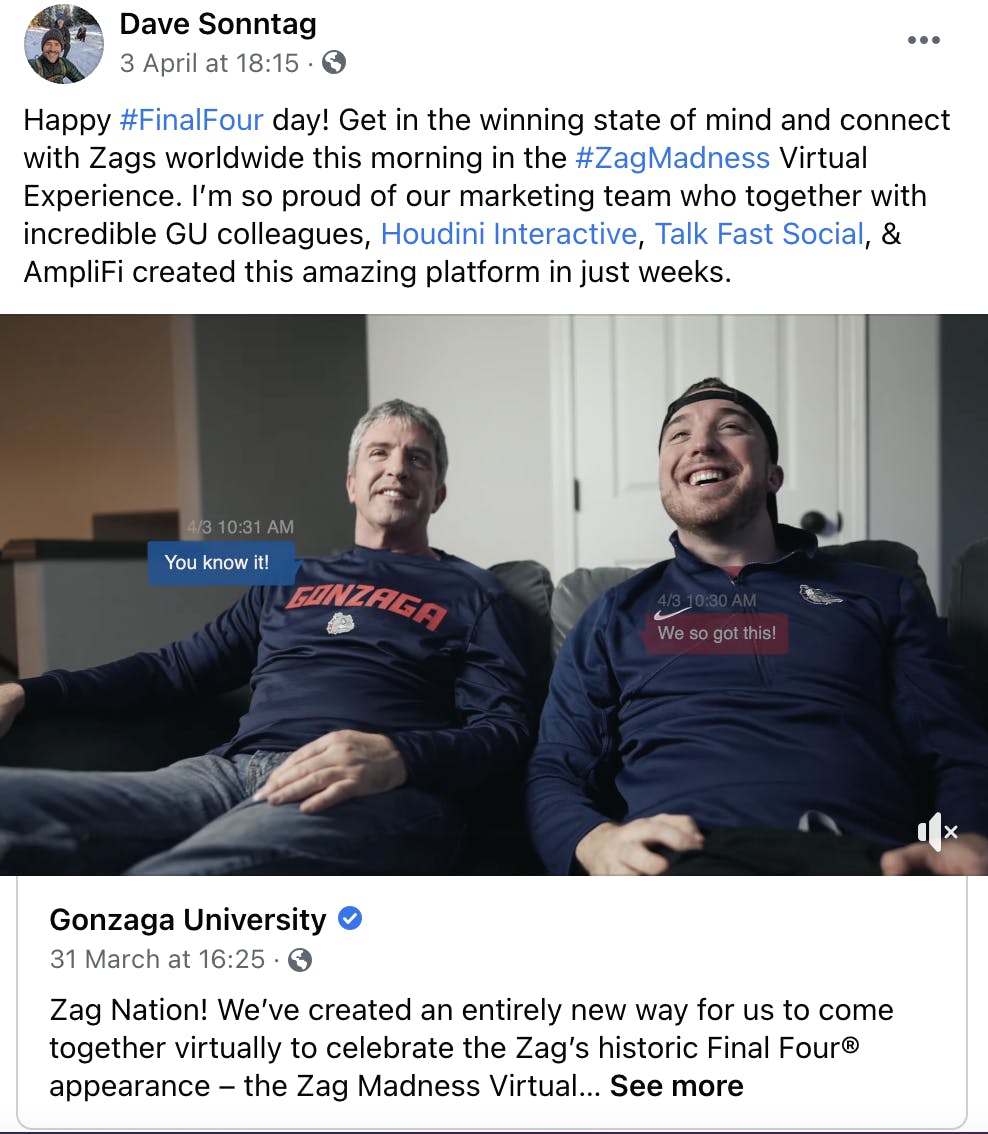 The marketing team at Gonzaga University put together a virtual experience in just a few weeks, to show support for the incredible run of the Gonzaga Bulldogs. This is a great way to build a community around the event and add to the buzz. Alumni were invited to a virtual gathering to celebrate the Bulldogs getting into the final four, which included virtual hoops, the chance to chat with fellow 'Zags', photo booths, competitions and a live DJ stream.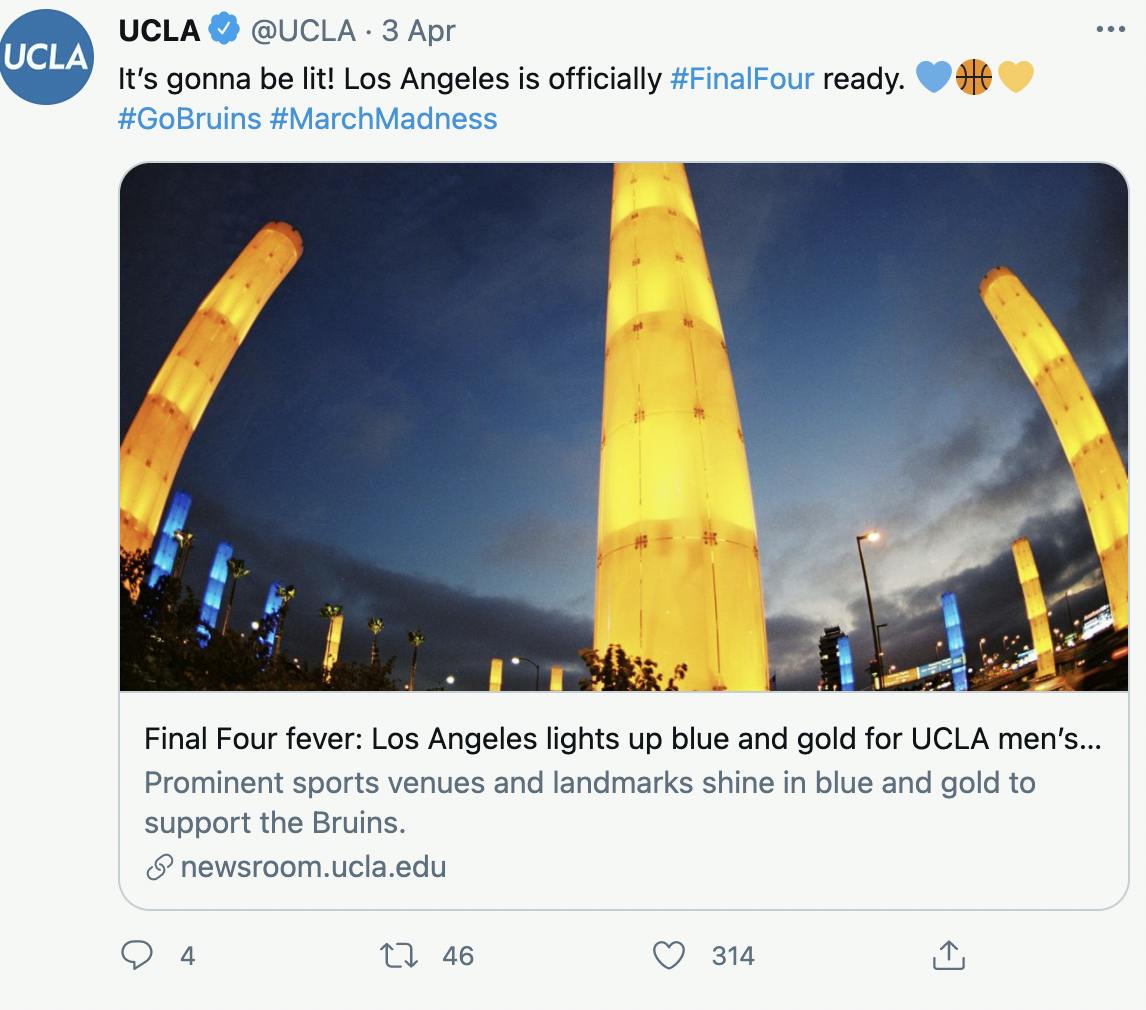 Even if you don't have the chance to create a whole new event promoting your varsity team, remaining keyed in to local celebratory events and sharing on your socials is also highly effective at creating a buzz. When venues across Los Angeles shone blue and gold to support the Bruins, UCLA shared it across their social platforms.
Key takeaways 
Major sport and cultural events can be incredibly motivating for your students, alumni and your whole campus, helping to inspire pride and a sense of community. And your student voice is key. If you create a buzz around your sport and cultural offers on social media and through your marketing, students will take pride in their institution and become the perfect promoters, helping to elevate your university brand. Getting students involved at an early stage can make them into your brand ambassadors for life, so connect with them and make them proud! Now you've seen some of the best content promoting March Madness, how will you use other sports events and incorporate these tactics into your marketing, social media and advertising? If you need help embedding cultural and sporting events into your branding and marketing strategy, get in touch with our experts today.