A huge part of higher education (HE) marketing is understanding the competition. What are your competitors doing to stand out, and how are you keeping up with them?
To help marketers connect with one another, Net Natives and Times Higher Education (THE) created The Higher Education Marketing Survey (HEMS), which aims to track how HE marketers respond to enrollment challenges, understand priorities and challenges across the sector and ultimately empower decision-making.
For this survey, we gathered responses from 323 educators worldwide (with the largest segments being the US and UK sectors). The report featured several data points regarding growth, budgeting, technology and student engagement. Below are four of the key takeaways. 
Priorities and Growth 
An important question to ask when evaluating the HE marketing sector is: what priorities do marketers have? And what obstacles stand in the way of achieving their goals? Below are the top three priorities: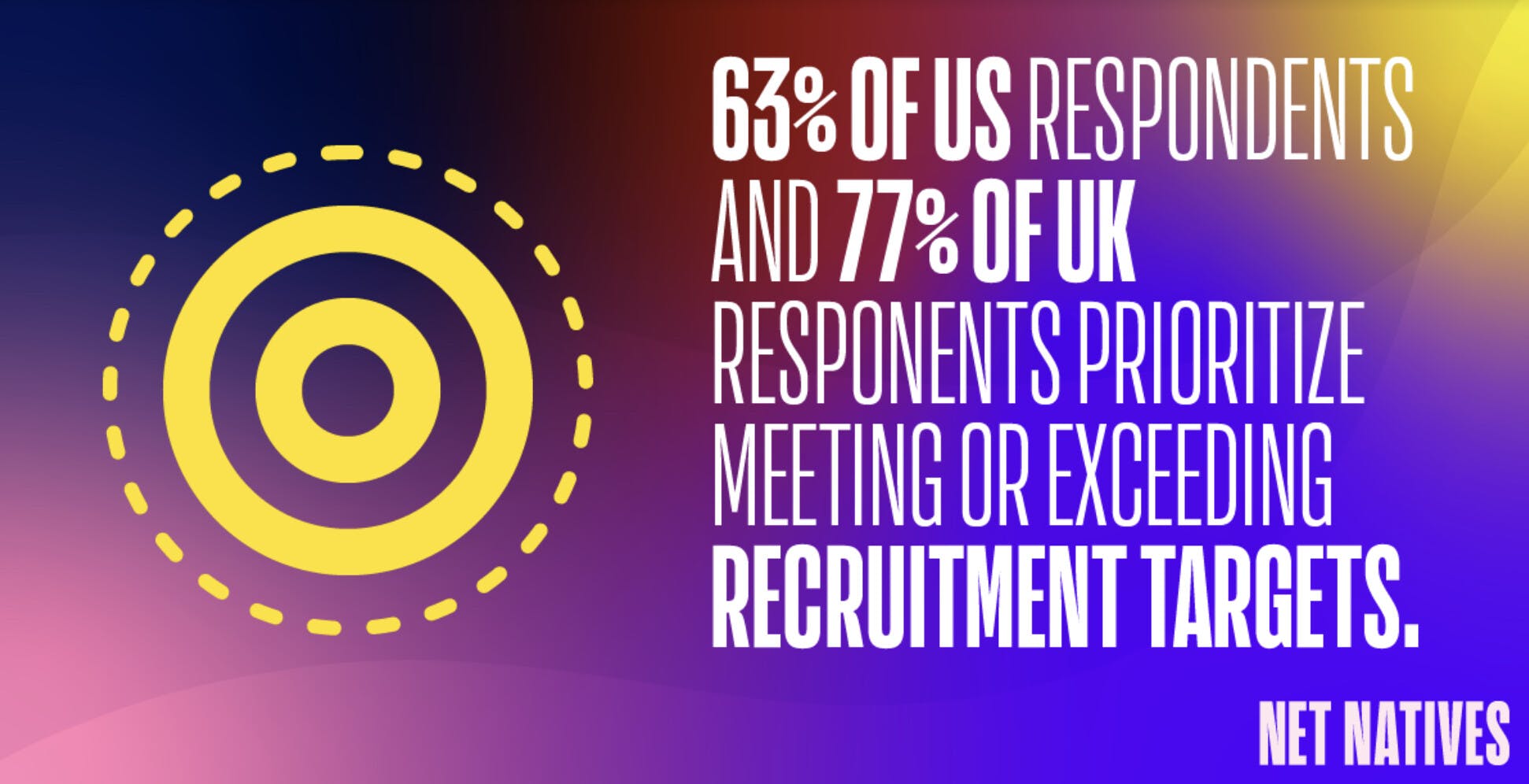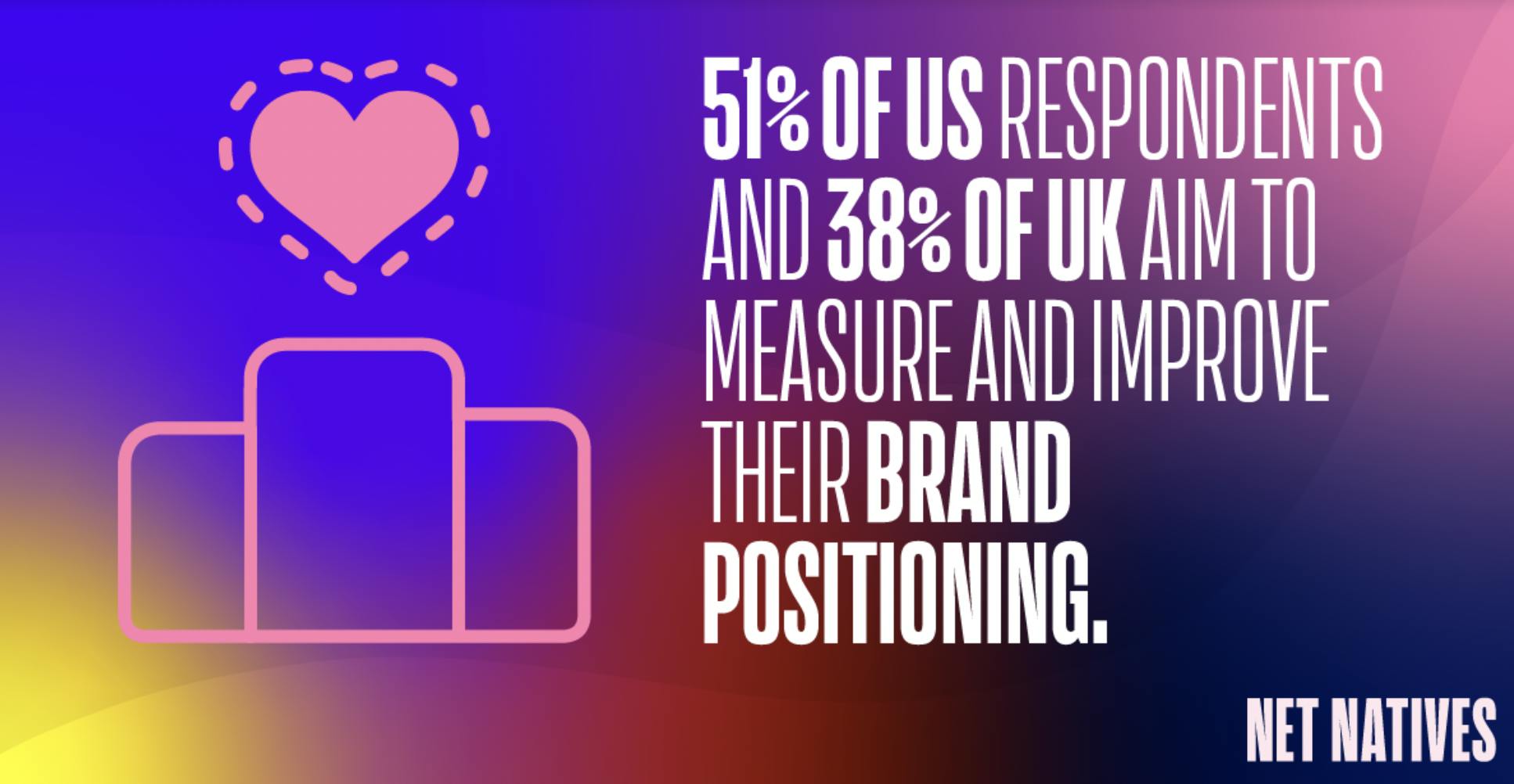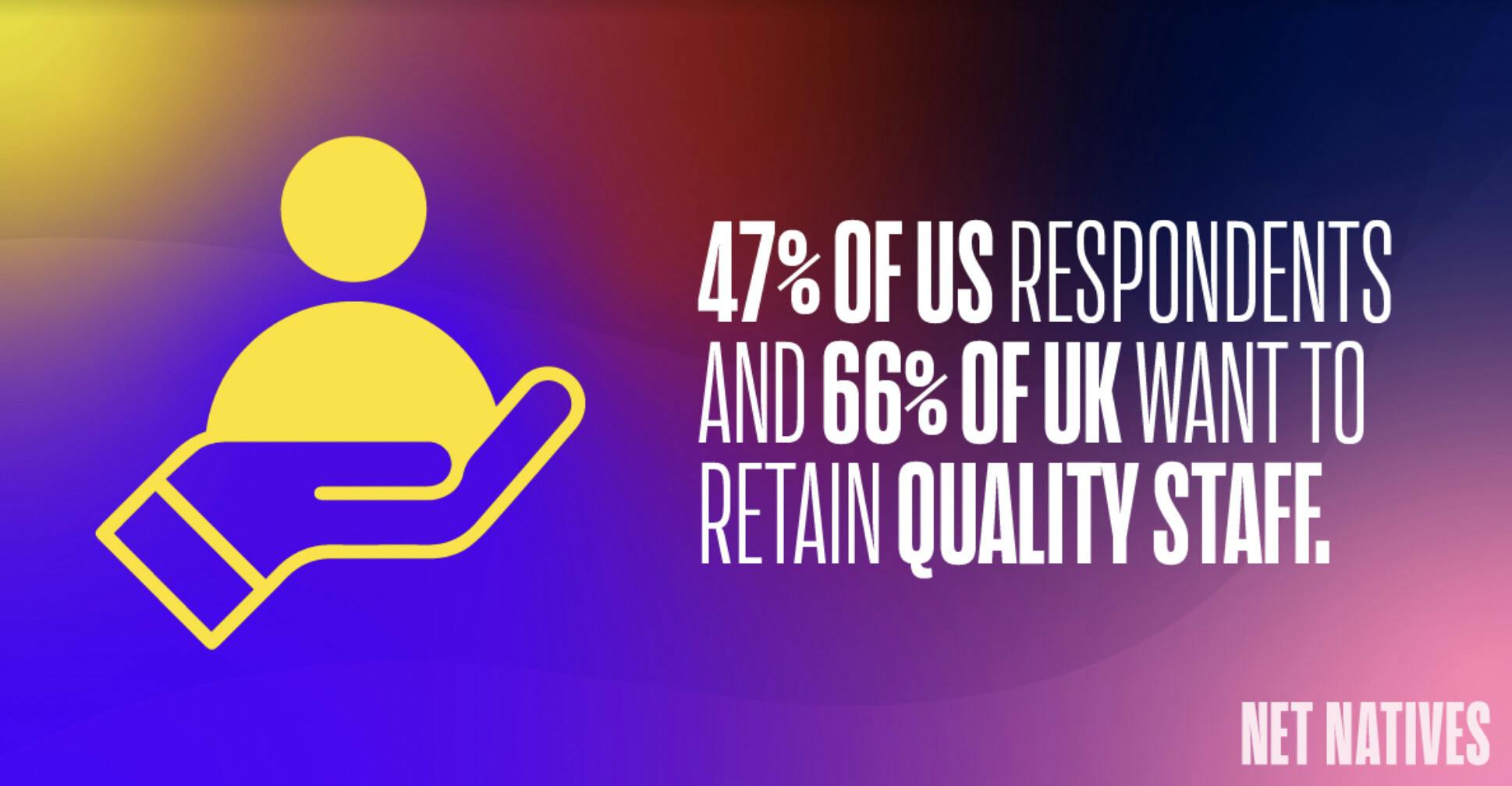 Overall, the majority of respondents ranked meeting or exceeding recruitment targets as their biggest priority. Unfortunately, many universities struggle to accomplish this – 69% of US universities and 53% of UK universities claim their biggest challenge is having sufficient funds to hit targets. 
In addition to examining priorities, we looked at expected areas of growth. Our survey revealed that the main focus for both UK and US universities is on existing, domestic markets, followed closely by new programs in the US and existing, international markets in the UK. 
A key takeaway from these insights is the importance of proper budgeting. Whether you're trying to meet your recruitment targets or grow in the domestic market, you're going to need the appropriate funds. Let's take a closer look at how HE marketers are organizing their budgets.
Budgets 
From academic programs to facilities, there are tons of areas that require funding to keep an institution running. A key area is advertising – promoting your university can be extremely helpful when recruiting new students. 
On average, almost 40% of US universities allocate between $100,000 and $300,000 to advertising campaigns. Over 50% of this amount falls into the "digital advertising bucket." Similarly, UK universities are spending a good chunk of their budget (about 54%) on social, search and digital advertising. 
However, despite these investments, many universities aren't seeing the returns they want. To ensure every dollar you invest is making a difference, you should closely track your campaigns using technology. 
Data and Technology 
Tracking your metrics is a great way to determine how effective your marketing strategy is. Out of all the different areas US and UK institutions track and use, applications, enrollments, click-through rates, leads/inquiries and clicks/impressions consistently ranked highest. There are also several areas that that institutions want to track, but currently cannot – these include: 
Market share
Lead time
Performance against competitors 
Cost per application
Cost per enrollment 
To track these areas in real-time, more and more universities are turning to the power of technology. For example, using our revolutionary, AI-powered advertising platform, Akero, our technologists can deliver live insights on your advertising performance that show the true cost-per-acquisition. This enables you to take full control of your budget, ultimately bringing your marketing and admissions goals together. 
In addition to live insights, our advertising technology helps universities effectively apply zero based budgeting to enrollment operations. Rather than using last year's advertising budget to determine this year's, this marketing method starts with a blank slate. Then, universities create strategies and decide how much you're willing to spend on each one.
Along with monitoring spending, you should also review your university's performance and how it compares to competitors. Our student marketing ecosystem includes access to Student Hut, where you can get real-time insight into the minds of students and learn more about how to engage them. 
Student Engagement 
Every successful student marketing campaign is rooted in student opinions. To determine what matters most to students, we gathered opinions from our monthly Student Pulse report and compared them to opinions of HE marketers. The study revealed the areas in which students and HE marketers are aligned, as well as the areas where they're disconnected. Both groups agreed that the following factors are important when applying to universities: 
Offers the right course
Affordability/costs
Good rankings/reputation
Entry requirements
Campus facilities/Support services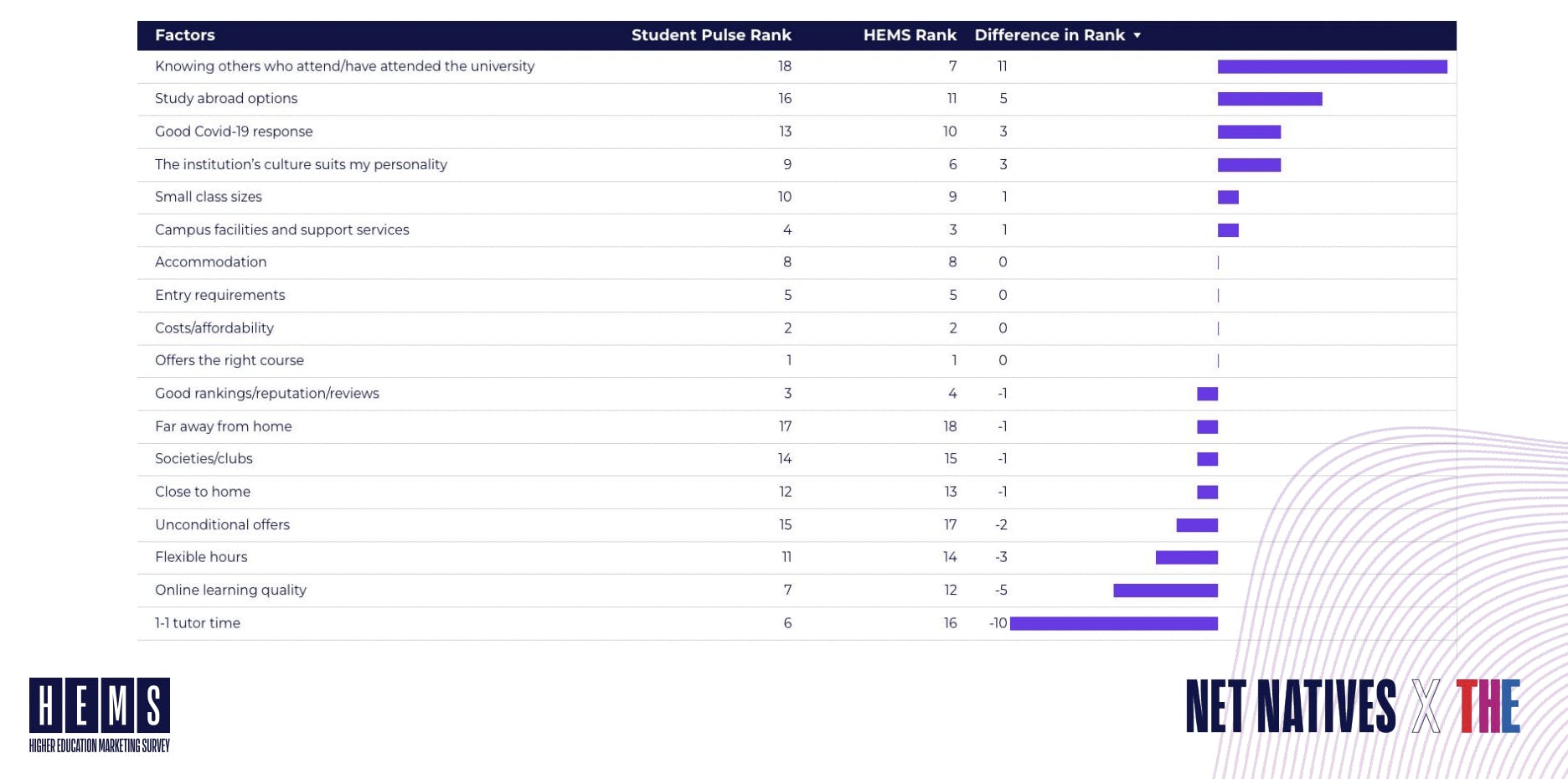 Whether you're trying to boost your applications or just improve your ratings, you should be aware of what prospective (and current) students are looking for. Stay up to date on the pulse of students, and make sure content is always relevant and in proportion to what students want. 
Next Steps 
Now that you know some key takeaways from this year's HEMS webinar, you might be wondering: what's the next step? How do you use these insights to optimize budgeting, attract new students and improve your overall marketing strategy? 
First, we recommend downloading the HEMS webinar slides, which will give you a more comprehensive overview of these insights. You can also access this data through Akero, which plugs guaranteed student advertising into your CRM and attributes true ROI. 
We also encourage universities to participate in our follow-up focus groups this upcoming October. By signing up, you'll get to contribute insights regarding this year's research, connect with other universities and learn more about what the competition is doing. 
Ultimately, the student marketing world is constantly evolving, and measuring these insights is an ongoing process. We're constantly learning new things about the field, and we invite you to learn with us! If you have any questions, get in touch at marketing@netnatives.co.uk.