Keeping up with evolving digital trends is, as many higher education marketers know, the best of times and the worst of times. When universities think about engaging and enticing the incoming class each year, it's important that their marketers know as much about the digital world as many of their prospective students do. That's why we've taken the past month's biggest news from the digital and student spheres and created bitesize nuggets for your consumption.
1) Twitter begins testing collaborative Tweets
Following in the footsteps of Facebook and Instagram, who both recently added TikTok-style co-creation features, Twitter has thrown their hat into the ring. Much like the Duet feature on TikTok, collaborative tweets will facilitate easier influencer collaboration and may be an option that helps with co-marketing campaigns.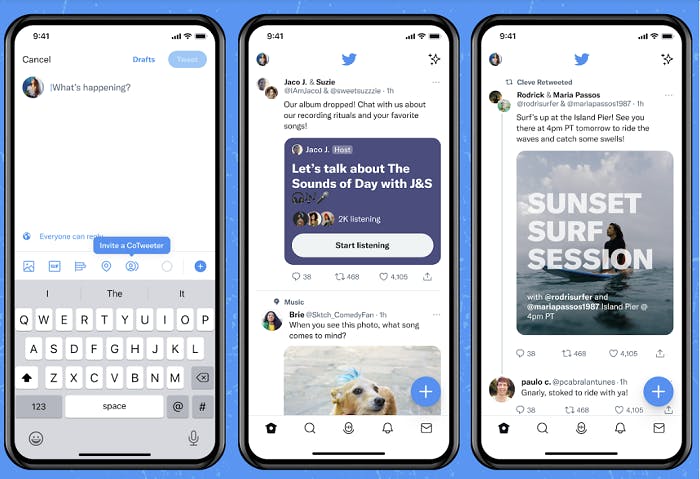 This is good news for higher education marketers looking for a fresh, organic approach. The success of this adtype will be contingent on social response strategies, upkeep of comments, and reactive responsiveness. 
2) Department for Education predicts 12% shrink in pupil numbers over next decade
Due to what was described as 'notably lower birth projections', statistics published by the DFE show that they expect the school population to drop by over 10%. This could result in school closures after a time when new schools were built in response to a 2000s baby boom.
As time goes on, higher education marketers and their respective universities may see an increase in competition between each other as they try to entice a lowering number of students to their doors. It's a great time to evaluate things like branding, strategy, creative, inclusion and accessibility, team efficiency, student data, research, and…the list could go on for miles.
3) Check out this great TikTok geared towards international students
This quick, snappy video from the University of Sydney engages with multiple aspects of student life, including its location, campus, socialization, and culture. These are all necessary topics for international students, who can sometimes feel isolated. With over 100,000 impressions and 3,000 likes, it's performing well for an organic post.
For higher education marketers, this reveals insight into the kinds of content which resonate with international students. 
4) Facebook reconsidering feed algorithm to be more like TikTok
Facebook is looking to replicate the success of TikTok's feed after bringing their short video format, Reels, across from Instagram. A leaked document has revealed that they are working on ways to change how content is discovered on the app. The proposed shift would be away from friends and family's posts, towards content that aligns with your interests.
In the past year, META has seen plateauing usage in Instagram and a decrease in daily Facebook users—the first decrease in 18 years. META is currently grappling with Tik Tok for the minds of young social media users, and whether or not their shifting strategy will be successful in re-attracting teenagers and college-aged youth has yet to be seen.
5) Facebook introducing new ad type after Apple update 
With Apple's ATT update causing more users to opt out of in-app data collection, Facebook is launching basic ads that won't be specifically targeted. These basic ads will require less user data and could facilitate broad brand awareness campaigns. Advertising this way would rely a lot more on user interaction boosting reach, so engaging ads are essential for this particular format.
For IOS 14.5, 96% of users opt out of app-tracking, far higher than previous estimates. If higher education marketers see a struggle when using techniques like IDFA (ID for Advertisers) to track students' activity for ad targeting purposes, the solution in this case could be upping your in-app creative ads game on META ad channels like Facebook. This is especially important since this kind of format relies on sparking consistent engagement such as likes, sharing, comments, and reactions. With Net Natives' content marketing and creative services, success with this new adtype is just a hop away. Net Natives can help create show-stopping visuals and utilize engagement data in advertising further down the line.
The tides are ever-changing in both the advertising and student spheres. Start a conversation with our team today to bring on-the-nose expertise to your workplace.