You never know where inspiration can strike. It might even spring from a young trainspotter going viral on TikTok… We know, we didn't think we'd ever say that sentence either.
During the pandemic, Francis Bourgeois started filming his hobby after hiding it from school friends for years. His earnest enthusiasm inspired the nation and gained him over two million followers. Earlier this year, Bourgeois became a brand ambassador for GB Railfreight, and starred in this iconic collaboration between Gucci and The North Face.
To help get your creative juices flowing, we've found three unique ad examples (print, out-of-home, and video) from outside the education sector and around the world.
1) Sky Broadband: Showing Not Telling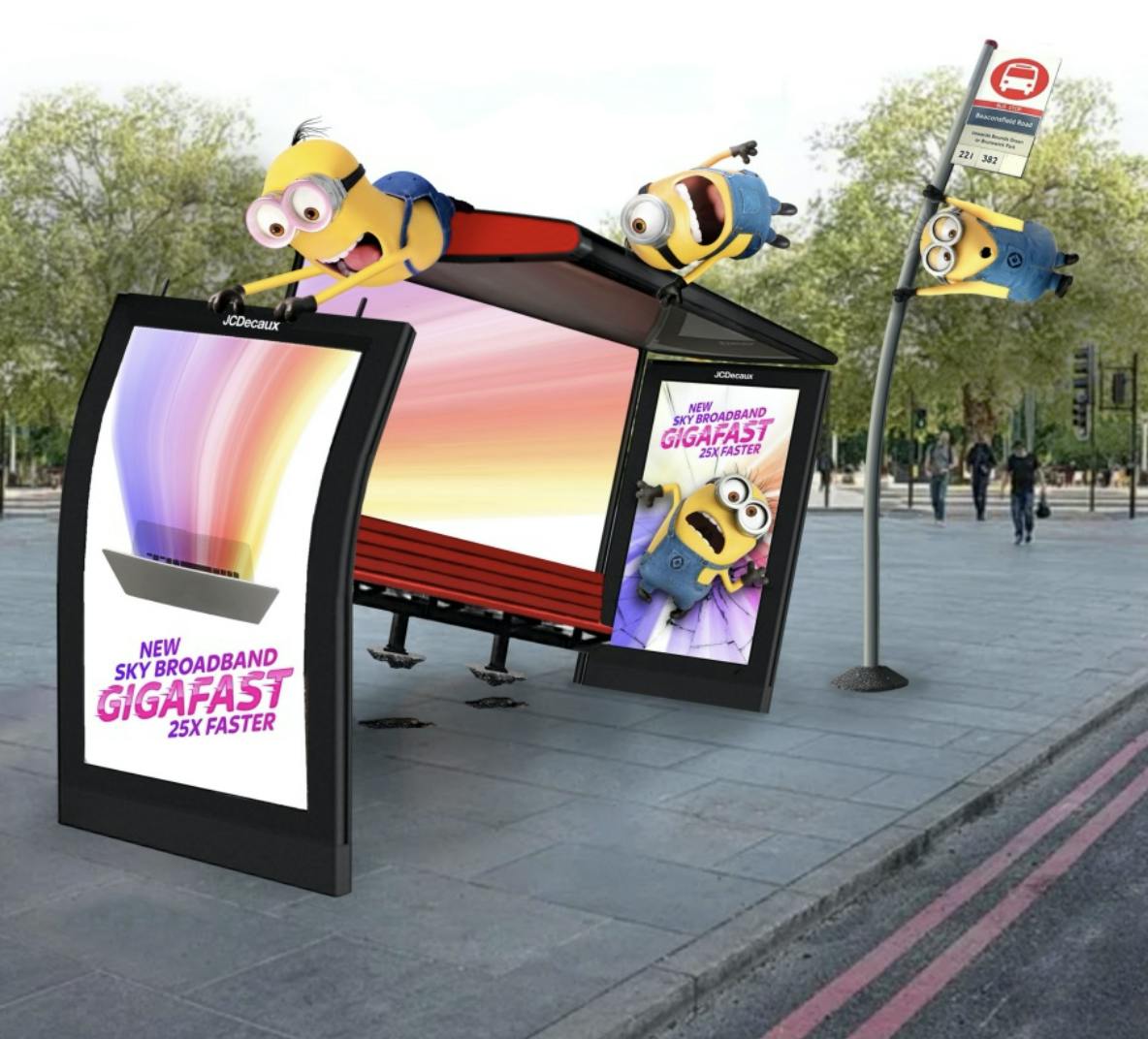 Sky Broadband's new upgrade, 'Gigafast', offers 25x faster internet speeds than their standard package, with an average speed of 900Mb/s. That's insanely fast. But how do you show that in a memorable way? What does that actually mean for the average internet user?
You could talk stats. Explain that users can stream ultra-HD video on 36 devices at once. Or invite audiences to download an HD movie in 36 seconds. But that's a lot of boring figures for the average commuter. You've got their attention for a fraction of a second. How do you make a lasting impression? How could you visualise faster internet speed?
For this campaign, Sky deployed Minions to create interactive out-of-home ads that highlight the exhilaration of superfast broadband. This campaign includes bus stops bent out of shape, billboards torn apart, and branded slides installed in shopping centres. Sometimes, the best way to get your message across is with nationwide art installations.
Consider how you might target two key users at once with your campaign. Your average commuter might not be the biggest Minions fan, but you can bet their kids are.
2) Apple TV+ - Highlighting the Negative
When entering a heavily saturated market, how do you stand out from your competitors? Apple TV+ offers 30 original movies and over 50 TV shows for its subscribers. So what? Netflix has at least 17,000 titles. And Amazon Prime has around 26,000.
It can be tempting to gloss over the weaker aspects of your brand. But sometimes it pays to be self-deprecating. Apple TV+ features films and TV shows with Hollywood's biggest stars, both in front of and behind the camera. They've got everyone you can think of. Well, pretty much everyone. Everyone except Jon Hamm.
In a luxury apartment, the Mad Men star scrolls through the options on Apple TV+, furious that his own name's left out. He makes irate calls to Tom Hanks and leaves angry voicemails on Apple's answer machine. Hamm gets increasingly frustrated as he reels through a seemingly endless list of featured Hollywood names. The ad closes with the tagline, "Everyone but Jon Hamm".
This campaign has been cited as one of the best streaming adverts ever. Hamm's comic outrage proved to be contagious. Popular related searches include: "Is Jon Hamm on Apple TV Plus?", "Why is Jon Hamm not on Apple Plus?", "Is Jon Hamm coming to Apple TV?".
Consider making a list of all the drawbacks of your brand. Is there a way to use these in your favour?
3) Shanghai General Motors - Real Human Stories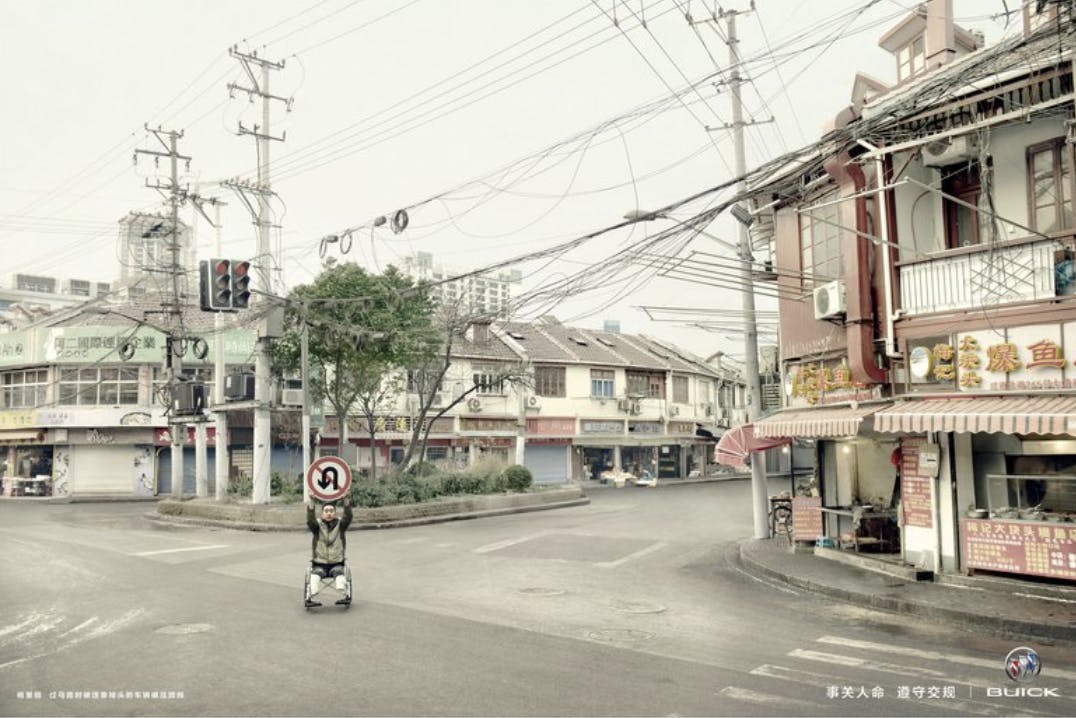 If your ad has the potential to reach millions, why not use that opportunity to influence society for the better? Let's say you're in the motor industry. You could remind audiences to "drive responsibly", with the message buried deep in the small print. Or, you could make safe driving the forefront of your entire campaign.
For this multi-award-winning piece, Shanghai General Motors reached out to over a hundred victims of driving incidents to star in their print ad campaign, Signs Are There For a Reason. Fatal road accidents are a serious problem in China, where traffic regulations are often ignored. General Motors wanted to remind road-users of the human cost of their decisions.
In this striking series of photographs, nine people serve as human traffic signs. All of them are real survivors of traffic incidents, with visible sustained injuries. Positioned in incident-prone areas, they hold up stop signs, speed limits, and traffic signals. In one particularly striking image, two men stand with a photograph of a lost loved one, and a 'no heavy goods' sign.
Sometimes an ad is about more than just selling a product. How could your campaign make a difference?
Feeling inspired? Start a conversation with our creative copywriting team today.